We would like to welcome you all, especially the new students and families, to the school community. It is our prayer that you all feel welcome and we are looking forward to serving you during this academic year. We take this opportunity to say thank you to all of you who make Emmanuel the place it is. Your prayers and support in so many different ways are very much appreciated. A very special welcome to this New School Year.
Our School is a Christian Schools Australia school, and you, as a parent, are a member of the ministry of the School. You are a very important part of the community of believers in Jesus Christ, which fulfils the Biblical commandment to train children so that all of their education is of the Lord.
Please download and read all the information on this website. If you have any questions, do not hesitate to contact us.
Important Notices:
– 2021 School Diary –
Your child will receive their 2021 School Diary at the start of Term 1, and you will be invoiced for the cost thereof.
Payment for the Diary is due in the first week back to school, thank you to those, who have already paid.
There are now three ways to pay for the Diary:
Online into our bank account with your childs name and Year as reference
Cash to the class teacher in Primary School or to reception
New online credit/debit card payment via link to https://www.trybooking.com/BLMNW
To introduce our new online credit/debit card payment system, https://www.trybooking.com/BLMNW  we have a special offer where you can pay for the Diary online at a discounted price, for a limited time.
School Diaries usually cost $15, BUT if you pay for it online before the 28th January 2021, you only pay $10.
This offer expires on the 27th January at 11pm, thereafter the price will go back to the usual $15.
If you don't take advantage of our online discount offer, you will pay $15 per diary from the 28th January onwards.
– Student Safety –
Emmanuel Christian Community School is committed to the protection of all children from all forms of child abuse and grooming and demonstrates this commitment through the implementation of comprehensive policies designed to keep children safe.
We have a zero tolerance for child abuse and grooming and are committed to acting in children's best interests and keeping them safe from harm. The School regards its child protection responsibilities with the utmost importance and as such, is committed to providing the necessary resources to ensure compliance with all relevant child protection laws and regulations and maintain a child safe culture.
If there is a concern that a child may be subject to abuse or grooming, we encourage discussion with the Principal. Communications will be treated with utmost confidentially.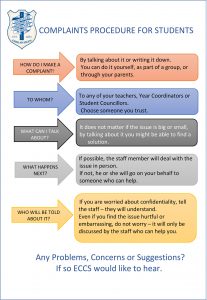 – Year 10 Course Selection Evening –
Please download a PDF document used at the course selection evening on 3 August 2020 from below.
---
Other Information: