School uniforms promote a feeling of community. Uniforms are compulsory at Emmanuel and students are expected to wear the correct uniform at all times.
Our school uniform shop sells all uniform items except shoes, please see the list below. Crested bags can also be purchased via the uniform shop. You are welcome to walk in during the opening times below or if you'd like to avoid the queue, you can send orders to Maree Concha via email: uniform@eccs.wa.edu.au. Your order will be processed and payment instructions provided. Notification will be given when it is ready to collect from reception. If you have any further enquiries please contact Maree.
For more information on our school uniform policy please click here (see page 34 to 37).
---
2021 January School Holidays Opening Times 
Thursday 21 Jan 2021 From 10am to 2pm
Friday 22 Jan 2021 From 10am to 2pm
Monday 25 Jan 2021 From 10am to 2pm
Mark your calendars!
NOTE:
We want to encourage everyone to please email your orders through for 2021. The uniform shop is expecting a lot of orders to flow through in the lead up to Term 1, so we kindly ask you to consider this and send your orders through as soon as possible. So avoid the rush, avoid the queues and order online if you can! Please also refer to your booklist (https://www.eccs.wa.edu.au/parents/book-lists/) in case there are additional items your child needs to have for Term 1, 2021 as well as their summer uniform.
Price list and order forms are available from the links below.
Send your orders via email uniform@eccs.wa.edu.au
---
2021 Regular Opening Times (during the school terms)
Mondays from 2.00 PM – 4.00 PM
Thursdays from 8.15 AM – 10.15 AM
---
2021 Price Lists & Order Forms
---
Payment Options
Cash
Bank Transfer (Details in the Uniform Shop)
EFTPOS card and Credit card
---
Uniform Shop Ordering Procedure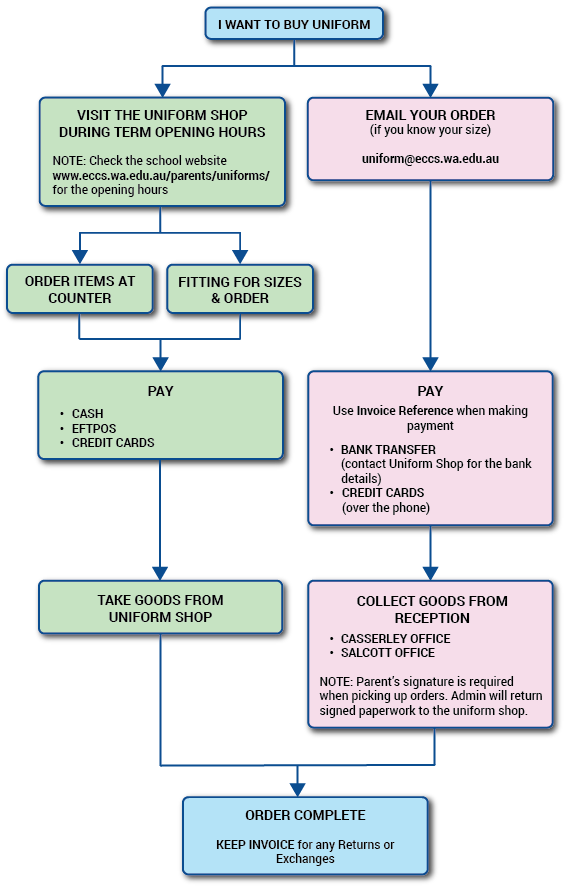 ---
Second-hand Uniforms
Second-hand uniforms can be purchased or sold through www.sustainableschoolshop.com.au. For more information, please refer to the Second-Hand Uniforms & Textbooks page.