School resumes
MONDAY 24th April 2017
for Term 2
Welcome From The Principal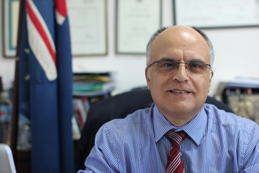 Welcome to the Emmanuel Christian Community School website. Thank you for taking the time to find out more about our school and what we are about.
Our vision is: that through the teaching of God's Word we will bring people to Christ and help them to grow in Him as it is found in Matthew 28:19-20. At the same time we aim to build a place of quality teaching and learning excellence that honours Christ and prepares our students for life.
Welcome to our 2017 School year! We are eager to welcome both NEW & returning families back to Emmanuel School for the new school year. We are very excited about the upcoming school year with the opening of our NEW Casserley Campus where our Kindergarten to Year 2 students have moved and the commencement of our Year 9 Class in 2017! Emmanuel teachers and staff have worked hard to prepare for a great year.
Please note that our Year 3 to Year 9 classrooms will remain at our existing Campus at Salcott Road. Click ECCS Campus Map 2017 to view the map of the two campuses showing the campus entries as well as traffic flow during drop off and pick up of your children. Traffic flow from Casserley campus will be ONE WAY, so younger siblings may need to be taken to class first.
Information about what each grade level requirements and policies for this year can be found under the PARENT INFORMATION Tab and click on 2017 parent handbooks. Please ensure that you read through this handbook to keep you well informed and familiar with the school policies and class requirements.
Below please find some important notes and reminders about the start of the school year.  Thank you in advance for your attention to the many details.
TERM 2 Commences Monday 24th April 2017
SCHOOL UNIFORM for Term 2 is WINTER UNIFORM. Please refer to the parent handbooks for more details.
UNIFORM SHOP will be open on the following dates & times (CASH ONLY):
Mondays from 8:30 – 9:30 AM
Thursdays from 3:00 – 3:30 PM
Last day of Term 2 is THURSDAY 29th June
KIDZWEST Before/After School and Vacation Care are now taking enrolments. Phone 9342 0675 or email info@kidzwest.com.au for more information on fees and opening times. They are located at 27 Hainsworth Avenue, Girrawheen WA 6064 (within the school premises).
Thank you again for your attention to the many details of the new school year!  We would like to request for your patience and understanding during term 1 as we settle into the new campus (Casserley) and reorganise the old one (Salcott Campus).
Please do not hesitate to reach out with any questions that you have.
You can find more specific information about the school on the links to the right and from the navigation menu at the top of each page. They will also add to your understanding of the school and the unique culture that makes Emmanuel Christian Community School the place it is.
Of course you are welcome to come and visit in person. We will be delighted to arrange a personalised tour for you.
Pedro Cruz
Serving as Principal since 1988  M.Ed.Adm.(UNE) BSc (UWA) Dip.Ed.(UWA) MACEL MACEA