Welcome From The Principal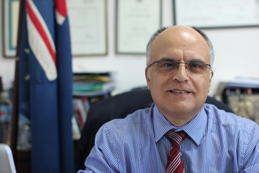 Welcome to the Emmanuel Christian Community School website.
Thank you for taking the time to find out more about our school and what we are about.
Our vision is: that through the teaching of God's Word we will bring people to Christ and help them to grow in Him as it is found in Matthew 28:19-20. At the same time we aim to build a place of quality teaching and learning excellence that honours Christ and prepares our students for life.
You can find more specific information about the school on the links to the right and from the navigation menu at the top of each page. They will also add to your understanding of the school and the unique culture that makes Emmanuel Christian Community School the place it is.
Of course you are welcome to come and visit in person. We will be delighted to arrange a personalised tour for you.
Pedro Cruz
Serving as Principal since 1988  M.Ed.Adm.(UNE) BSc (UWA) Dip.Ed.(UWA) MACEL MACEA