School Resumes
WEDNESDAY 19 JULY 2017
for Term 3
Welcome From The Principal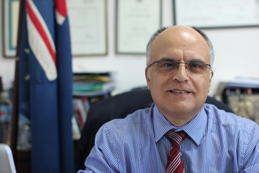 Welcome to the Emmanuel Christian Community School website. Thank you for taking the time to find out more about our school and what we are about.
Our vision: Through the teaching of God's Word we will bring people to Christ and help them to grow in Him as it is found in Matthew 28:19-20. At the same time we aim to build a place of quality teaching and learning excellence that honours Christ and prepares our students for life.
'The School is also committed to safeguarding and promoting safety, welfare and wellbeing of children and young people and expects all staff and volunteers to share this commitment.'
Welcome back to all Emmanuel families and our new ones for the third term of the school year. This is a ten week term and as always will be a very busy one so, please ensure you continue to check the "Dates to Remember" published in our Emmanuel Messenger fortnightly. Let's all look forward to an exciting and rewarding term as we celebrate the continued learning journey of our 431 students and 248 families.
We are also very excited to welcome 13 Brand NEW students this term. We hope that they will all settle well at Emmanuel and build new friendships as they meet their new classmates and new teachers.
It is very pleasing that high interest is regularly shown in our school. Prospective parents enquire about places available on a daily basis and these enquiries continue throughout the year for all year levels. These come from local families, families looking to move into the area and also families from much further afield. Through these encounters we gain many positive comments about Emmanuel and information which clearly indicates that our learning environment, programs and Christian practices are held in high regard. All our Staff and students at Emmanuel always strive to be a shining example of Christ who is at the very heart of the school.
Information about what each grade level requirements and policies can be found under the PARENT INFORMATION Tab and click on 2017 parent handbooks. Please ensure that you read through this handbook to keep you well informed and familiar with the school policies and class requirements.
Click ECCS Campus Map 2017 to view the map of the two campuses showing the campus entries as well as traffic flow during drop off and pick up of your children. Traffic flow from Casserley campus will be ONE WAY, so younger siblings may need to be taken to Casserley Campus first.
Below please find some important notes and reminders about the start of TERM 3.  Thank you in advance for your attention to all these information.
TERM 3 Commences Wednesday, 19th July 2017
SCHOOL UNIFORM for Term 3 is still WINTER UNIFORM. Please refer to the parent handbooks for more details.
UNIFORM SHOP will be open on the following days & time (CASH ONLY):
Mondays from 8:30 – 9:30 AM
Thursdays from 3:00 – 3:30 PM
KIDZWEST Before/After School and Vacation Care are now taking enrolments. Phone 9342 0675 or email info@kidzwest.com.au for more information on fees and opening times. They are located at 27 Hainsworth Avenue, Girrawheen WA 6064 (within the school premises).
Thank you again for your attention to the many details of the new school term!  Please do not hesitate to reach out with any questions that you have. You can find more specific information about the school on the links to the right and from the navigation menu at the top of each page. They will also add to your understanding of the school and the unique culture that makes Emmanuel Christian Community School the place it is.
Of course you are welcome to come and visit in person. We will be delighted to arrange a personalised tour for you.
"He has shown you, O mortal, what is good. And what does the Lord require of you? To act justly and to love mercy  and to walk humbly with your God." Micah 6:8 (NIV)
Pedro Cruz Serving as Principal since 1988 
M.Ed.Adm.(UNE) BSc (UWA) Dip.Ed.(UWA) MACEL MACEA